The Skyroam Unlimited Monthly Subscription (UMS) is an affordable way to stay connected on longer trips. UMS offers secure, seamless global connectivity with no SIM swapping - making it easy for you to hop from one country to the next and stay connected!
Whether you're wandering the globe, getting ahead on work during your daily commute, or keeping the kids entertained on a family road trip, UMS allows for an enjoyable mobile experience without missing a beat. 
Now available with the Skyroam Global Hotspot, Skyroam Solis, and Skyroam Solis X! 
How does the Unlimited Monthly Subscription work?
Skyroam's Unlimited Monthly subscription renews every 30-days, beginning the day you subscribe on a.skyroam.com or Solis App. Once subscribed, there is no activation necessary. Your Skyroam Wifi starts immediately, giving you on-demand access to the fastest mobile WiFi, available worldwide.
How much does it cost?
The Unlimited Monthly Subscription is $99 per month, and renews automatically. There are no hidden fees or overage charges. Just fast, secure Wifi whenever and wherever you need it.
No contracts. 
As with all Skyroam Wifi options, the Unlimited Monthly Subscription is contract-free -- you can subscribe and unsubscribe at any time! 
Where can I use my Skyroam?
The Unlimited Monthly Subscription is available in all of Skyroam's 130+ covered countries. Please refer to our coverage list for a complete list of supported countries.
Are my data and speed unlimited?
The Unlimited Monthly Subscription provides you with unlimited data, subject to our Fair Use Policy . For full-speed data without our Fair Use Policy, check out the GoData Monthly Subscription which lets you pay per GB. 
How To Get The Unlimited Monthly Subscription : 
1. Login to your account at a.skyroam.com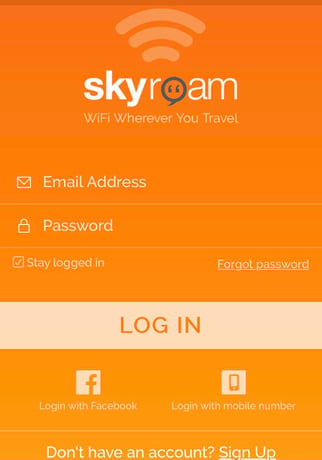 2. Visit the "Buy Daypasses" page, then select "Unlimited Monthly Subscription"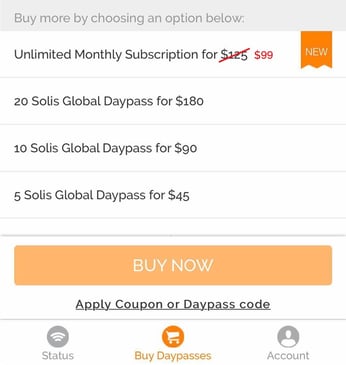 3. Click "Subscribe Now"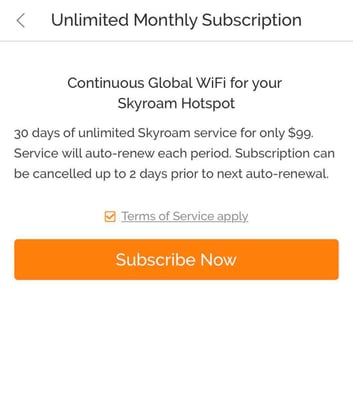 4. And that's it! Your Unlimited Monthly Subscription is now active!
---